Construction in Toronto has become the never-ending season. With about a third of construction cranes in North America operating in Toronto, the city's skyline is pretty much changing overnight. For real estate, that means new developments and more pre-construction condo sales.  
Pre-construction purchasing opportunities are great for real estate investment purposes but also for buying a brand new condo to live in, in a neighbourhood you love, over a distributed deposit payment span. In this article, we'll explore one of Toronto's newest developments, QA Condos, to give you an overview of the project and our thoughts on the development.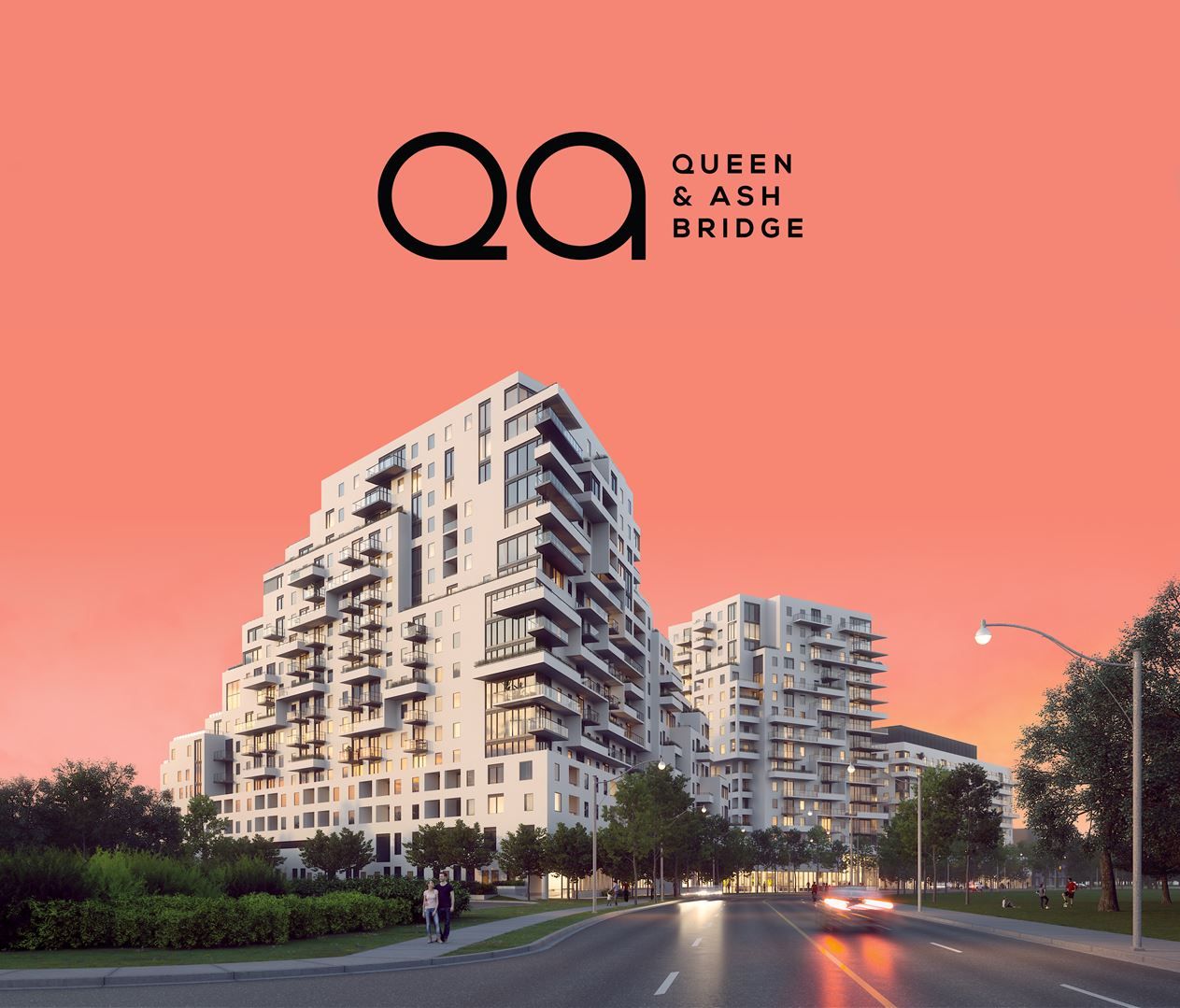 City Living Today: Introducing QA Condos
If 2020 taught us anything, it's the value of a comfortable living space. The pandemic limited us to our homes, but also to our neighbourhoods and our direct surroundings. As a result, many Torontonians have made the decision to move out of the city and into green-clad, clear-skied nearby suburbs.
However, suburban living is not for everyone and purchasing a house with outdoor space is not feasible for many. But buying a Toronto home in a neighbourhood that has an escape-from-the-city feel is the next best thing. If you're a condo-dweller in the city with high hopes for your next home, look no further than QA Condos at Queen and Ashbridge.
Coastal living is coming to the city's East end - for beach views, top-of-the-line design, and a coveted, charming neighbourhood, Queen and Ashbridge is your go-to. The project, now starting development, is bringing a new urbanite living experience to Leslieville. With great walkability to parks, cafes, shops, TTC, and the beach - we'll say that once again, the beach! -  QA Condos is city living, redesigned.


Location
Located between the Leslieville charm and The (breath-of-fresh-air) Beaches, QA Condos gives new meaning to the term "desirable location". Bringing you bayside living that's still central, QA is made for all of us who are in a love-hate relationship with the city. The walk score is nothing short of impressive and access to TTC is another perk on its own. Coastal Queen East is just a streetcar ride away from Downtown city life, so you're able to get the best of both worlds.
The neighbourhood has a unique balance between cafe-lined streets, calming green parks and, to top it all off, the beach boardwalk. Bringing us closer to the waterfront, QA Condos is giving us all the more reason to move to the Leslieville area.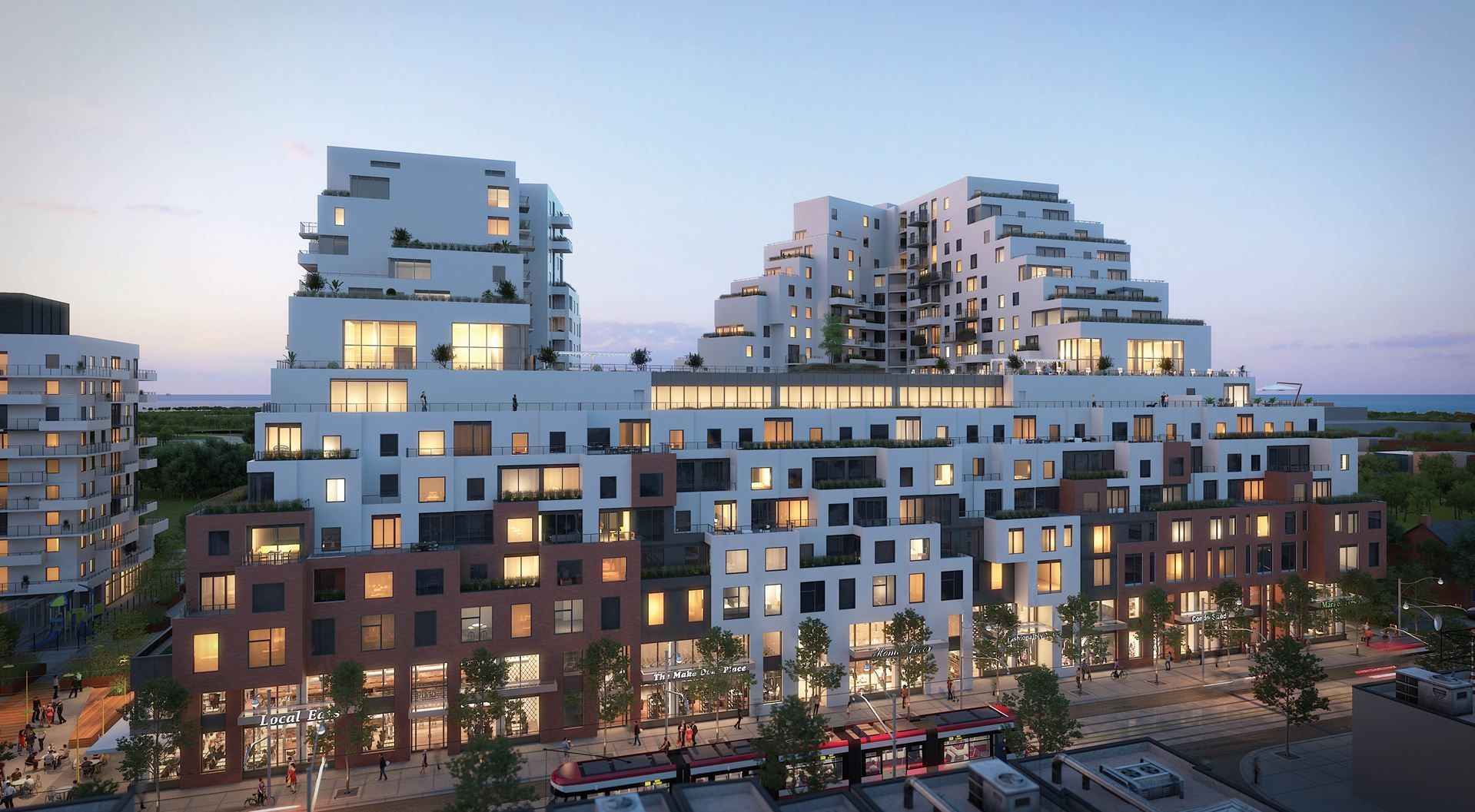 Building Specs & Design
Designed by Teeple Architects, QA weaves together a sleek, modern design with green spaces and outdoor landscapes. The building design is anything but stagnant - with different wings, cascading levels and layered floors, the architects seem to have done their best to give most units either a great layout or a killer view. Using an interlocking wide-spreading design, the building exterior does a great job at fitting in with the neighbourhood - could you imagine if it were a glass clad, cold-looking tower instead?
The building design makes great use of the ground floor by laying out inward facing courtyards that truly feel like an escape from the city. With an aesthetic designed to mimic Muskoka, the building includes limited edition suites, dubbed "The Cottage Collection", made precisely for enthusiastic city escapists. The suite finishes are inspired by earthy tones and warm interiors, meant to give a homey yet modern feel. Suite layouts range from 1-bedrooms, to 3-bedrooms, to spacious penthouse units.
Building amenities include:
The Coastal Club, a 5,000 square foot, state-of-the-art fitness centre that includes a spa area, spin studio and yoga studio.
The Sky Club, a a private gathering space with a terrace lounge, sun deck, BBQ & Dining Area,
The Woodbine Co-working Space, a space to take meetings and get work done.

Pricing
From the $500,000's to upwards of $2,000,000, QA Condos caters to a range of budgets, but there's no denying that units are priced on the steeper side with the average price per square foot sitting at around $1,200.

Developers
Developed by Context and RioCan, QA Condos is brought to you by the crème de la crème of builders in Toronto. One thing we focus on with pre-construction purchases is making sure you're dealing with solid, reliable builders who deliver. While these are definitely up there with the development magnates of the city, make sure to do your own research on their track records and their previous developments before making any decisions.
Our Thoughts
Scheduled to be completed in 2024, QA condos is definitely a shiny, new pre-construction opportunity, but is it worth the hype? In our book, QA Condos ticks the major boxes we look out for when it comes to pre-construction:
Location: QA crosses between neighbourhood charm (Leslieville) and vacation vibes (The Beaches), while remaining central. The location and the walkability/TTC score couldn't get any better, if you ask us.
Developer / Builder / Architect: This is probably one of the most important factors to consider and research before buying a pre-construction condo. Context and RioCan are a power duo development team with an impressive track record, not to mention the design team's impeccable reputation.
Unique Selling Point: When buying pre-construction, it's important to choose a property with a unique selling point in order to up its value as an investment. QA Condos offers unique value in its modern-urban design, high quality suite finishes, a distinct location, and so on.
That said, it comes down to your personal situation in terms of the pre-construction deposit structure and whether it works for you. Another thing to consider if you don't plan on living in your pre-construction property is an assignment sale. Going the assignment sale route can prove to be a good investment opportunity. However, since the market is at volatile standing with the uncertainty surrounding COVID's trajectory, nothing is certain. This year's city-wide increase in sale prices has come to the surprise of many - by 2024, condo prices may continue to rise or they could start plateauing at some point. Regardless, if your financial standing permits, then QA Condos can definitely be a unique investment opportunity.
If you're interested in learning more about this project feel free to message us via our live chat on dwelly.ca