In this article we will attempt to answer questions like - Why are Toronto's rent prices so high?  Why do they keep going up? And what's next? There are a few factors that are affecting rental prices, and here's a breakdown of them and what's to come for the Toronto's rental market.
Population Growth = Increased Demand
With Toronto's population growing at its fastest pace in nearly 30 years, the demand for housing in Toronto (& Ontario) is at its all time peak. Toronto's population grew by 4.3% from 2011 to 2016, with an annual growth rate of 0.86%. Making Toronto now the 4th most populous city in North America and the most populous city in Canada, representing almost 8% of the total Canadian population. Even with the increase in housing supply, there is still a shortage pushing rental prices up over the past few years. Thus, as the city's population has been rapidly growing, the demand for homes for rent increased.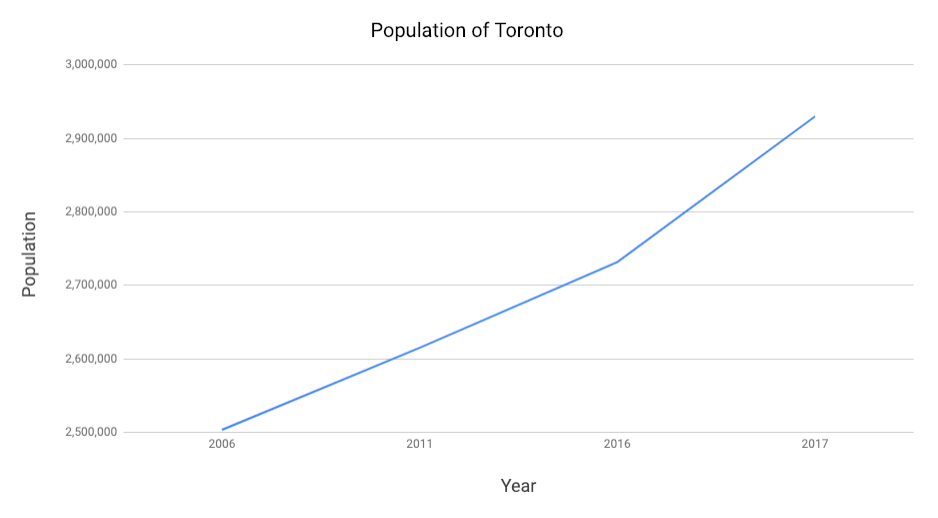 Low Vacancy Rates = Decreased Supply
Based on the latest report released in October 2018 by the Canadian Mortgage and Housing Corporation (CMHC) Toronto had the 4th lowest rental condo vacancy rate in Canada at 0.7%. With demand at an all-time high, Toronto continues to have vacancy rates that are near historic lows, competition for vacant units intensifies as evidenced by high asking rents. The decreased vacancy rate has also lead to a decrease in the turnover rate, which is the number of new rentals that become listed and rented out, decreasing substantially to 11.2% in 2018 from 14.5% in 2017. This continues to push potential tenants to intense competition for scarce vacant units. More rental supply is on the way with 140,116 condos in the pipeline to be built in Downtown Toronto over the next few years. However, this supply will remain insufficient to meet the projected demand. Similar dynamics have been playing out at various scales in U.S. coastal cities such as San Francisco and New York.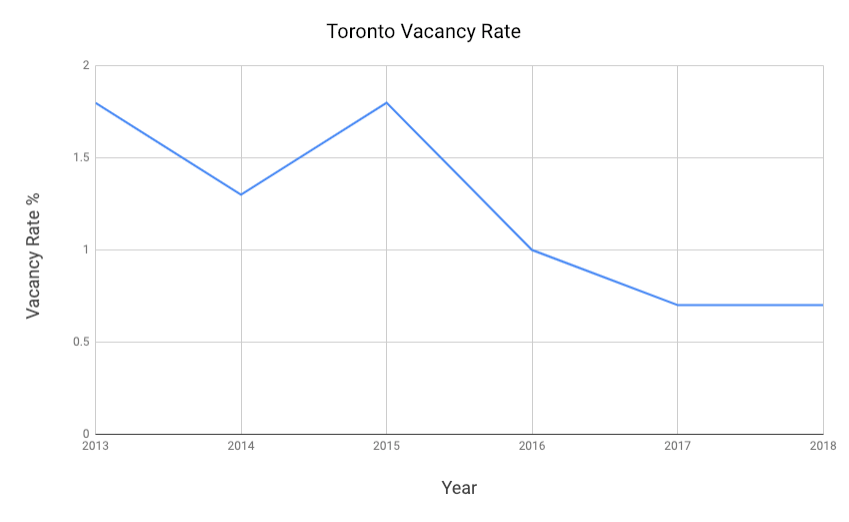 Result = Increased Rent Prices
The low supply and high demand will continue to push prices and rents higher in the short-term until the market reaches an equilibrium. With record completions and higher inventories expected in the second half of 2019, there is a chance we might start to see some pressure on rental price growth subside. Based on the current stats from CMHC the highest average rents for rental condominium apartments in Canada were in Toronto, with the average price of 2 bedroom at $2,522 and one-bedrooms at $1,966.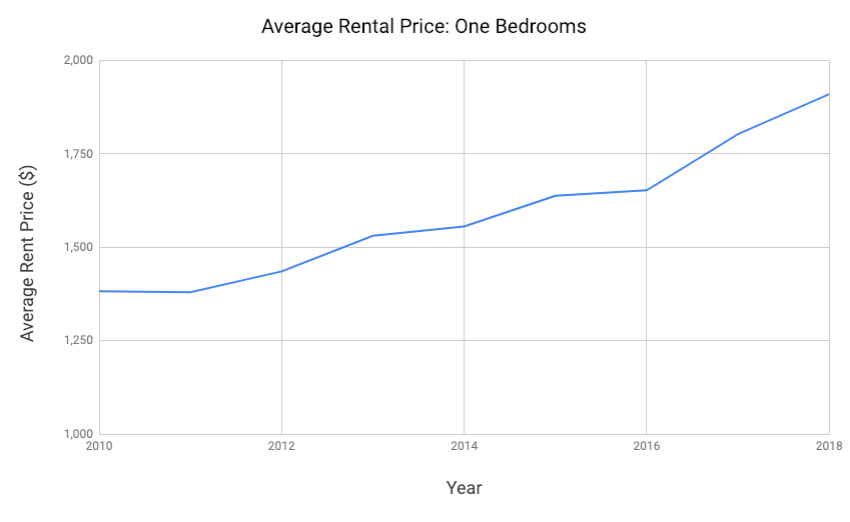 Key Points
Low supply will continue to apply upward pressure on rent prices in the short-term  
Rising housing costs will keep rental demand strong
A large influx of new homes in Toronto will help satisfy a large portion of the rental demands in 2019
Interested in renting or buying your next home in Toronto? Visit Dwelly.ca to browse properties and view the latest mortgage and interest rates for Toronto real estate. You can also connect with one of our local experts with any questions regarding the factors driving the city's rent growth.