As a couple preparing for a newborn or a young family growing up faster than you could have ever imagined you are likely considering what the best neighbourhoods are to live in. With so many great family-friendly neighbourhoods in Toronto to choose from and a wide range of great schools, kids of any age can find friends who live nearby and attend some of the highly-ranked educational institutions in the country, including public and private schools.
Here's what to look for to find great neighbourhoods for families during your home search:
School Districts: Where your kids will go to school is one of the biggest decisions for many parents when making a move. Choose your neighbourhood and use Dwelly's Schools Layer to find school ratings. Once you spot an area  you like, visit the listings that feed into that school. School ratings are a good starting point but aren't the only factor families use to determine the right district for them.
Safety: From the moment you become a parent, your job is to keep your child safe. Searching for a neighbourhood with a low crime rate ranks right up there. You might assume that a rural area is safer than the suburbs, which is safer than the city. But that isn't always the case.
Strong Community Network: Keep an eye out for evidence of other families during your viewings. Are children playing on the sidewalks? Bikes or wagons in the front yard? Families out together for a walk? All of these signs point to a thriving neighbourhood for families—and lots of potential friends for you and your kids.
Parks or Playgrounds: When you're looking for a family-friendly neighbourhood, you want to actually see families out and about. If there aren't any neighbourhood parks or playgrounds, that might be challenging.
Based on these factors, here are our picks for the top family-friendly neighbourhoods in Toronto.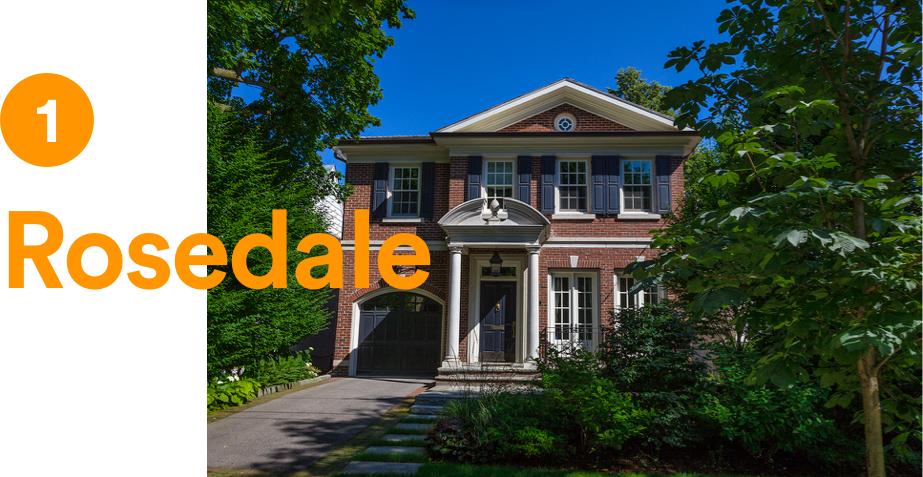 Rosedale is a highly sought-after family-friendly neighbourhood in Toronto. Homes in Rosedale range from historical and quaint to modern mega-mansions. Those homes that do stand out are often discretely backed away from the street and hidden by large fences with beautiful foliage. Most of the homes in Rosedale are Edwardian, Tudor, Victorian, or Georgian in style.
With convenient access to the TTC, this neighbourhood also boasts great schools, walking access to some of Toronto's major amenities and a quiet living environment, perfect for those families who want a piece of comfortable living.
Elementary schools in the neighbourhood include Rosedale Jr Public School, Whitney Jr Public School, and Branksome Hall. Browse Rosedale listings, houses and townhomes here.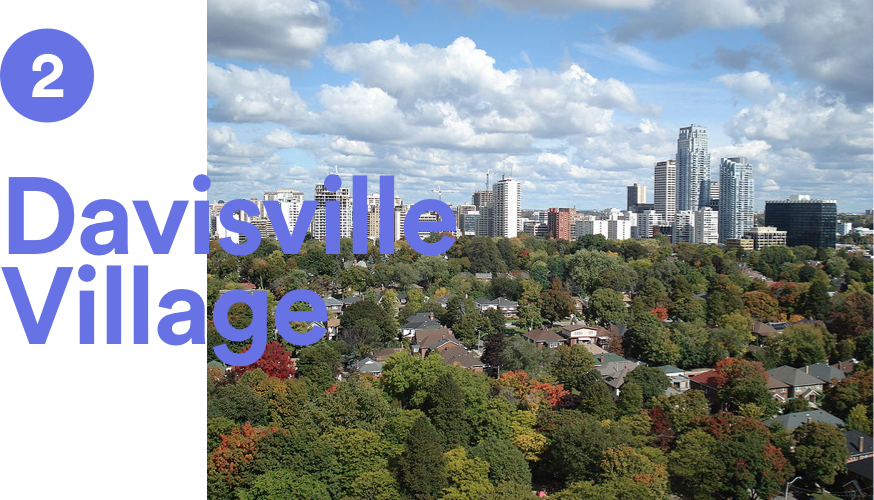 Conveniently located in Toronto's midtown, Davisville Village offers a wide range of housing options and great schools. The neighbourhood features some truly lovely architecture, as many of the homes there were built between the 1920s and the 1930 in the Edwardian-style. There's also a good diversity of housing to suit families of any size who rent. The neighbourhood's central location means it's ideal for transit and drivers from downtown, making it popular among young families.
Within the neighbourhood are two elementary and two middle schools in the public system, plus private schools like Toronto Prep School, Greenwood College and Sunnybrook. Browse Davisville Village listings, houses and townhomes here.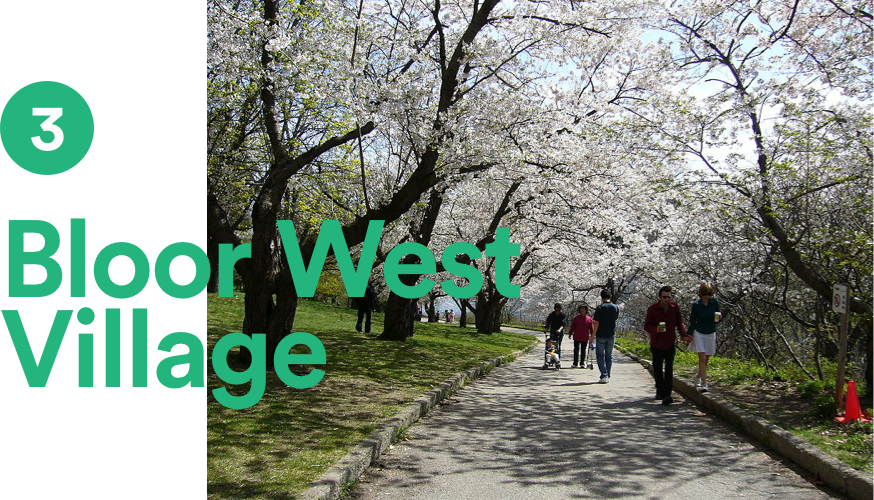 Bloor West Village sits to the north and west of High Park and is just west of Downtown Toronto. It is an area of the city with picturesque, graciously tree-lined, streets. High Park is also only a short walk away and provides 161 hectares of nature, playgrounds, and the gorgeous Grenadier Pond. Visiting the park in early spring to witness the Cherry Blossoms is a great experience. This community is friendly and has the charm of a small town in a big city as downtown can be reached in just minutes via the subway.
As mentioned earlier in this article, the foundation of a family friendly neighbourhood is safety, great schools, a tight-knit community and inviting parks and playgrounds. Bloor West Village has got you covered on all fronts.
Schools in the neighbourhood include Muir/Gladstone Ave Junior and Senior Public School and St. Pius X Catholic School. Browse Bloor West Village listings, houses and townhomes on Dwelly.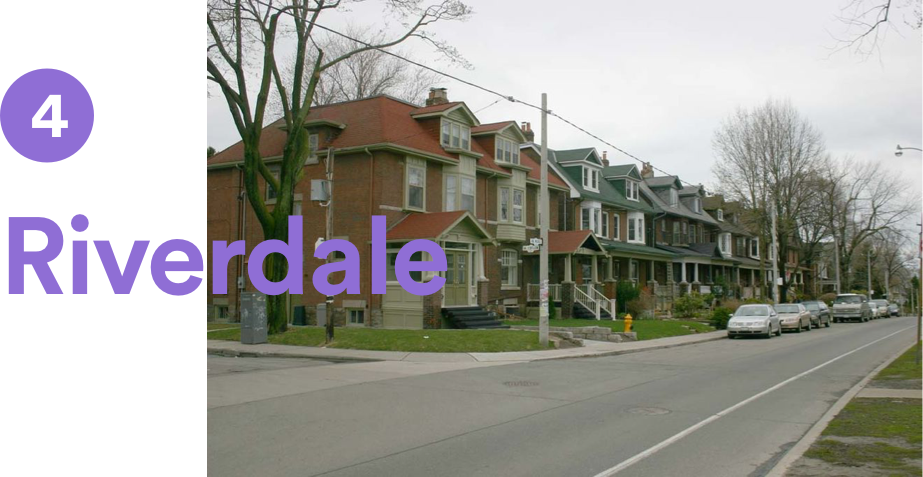 Riverdale is a large and diverse community on the east end of Toronto that is best-known for its colourful shopping districts and quaint Victorian homes. Streets in Riverdale are lined with trees, abundant greenery, friendly faces, neighbourly porches, and playing children. North Riverdale is a highly desirable neighbourhood in Toronto due to its proximity to the downtown core and to expressways, its variety of green spaces, and its beautiful Victorian-style homes.
There are a number parks in Riverdale: Withrow Park, Riverdale Park East, with its popular tobogganing hills, Greenwood Park, and Jimmy Simpson Park. All have swimming facilities, baseball diamonds and tennis courts. Nearby Greenwood offers day camps and hockey and skating classes, Jimmy Simpson Recreation Centre has a gymnasium and games room.
Schools in the neighbourhood include Pape Avenue Public School and Winchester Public School. Browse North Riverdale and South Riverdale listings, houses and townhomes on Dwelly.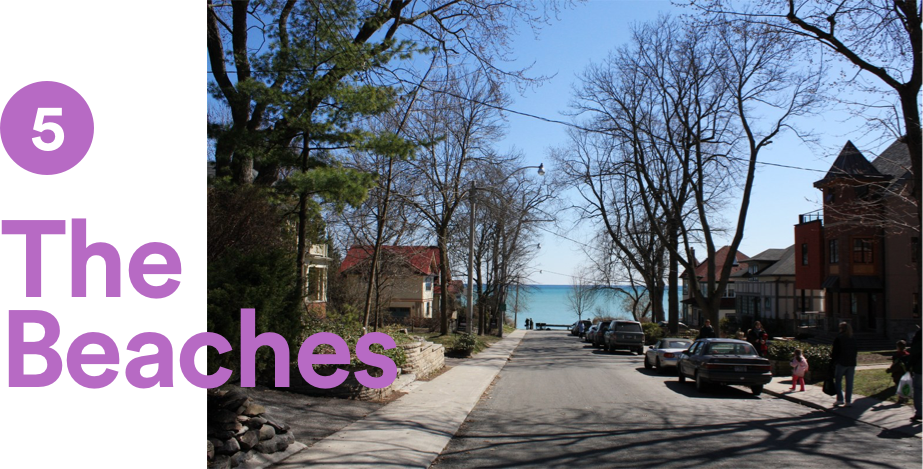 The Beaches features beautiful boardwalks and easy access to the Gardiner and Lakeshore expressways. The lake and downtown views are breathtaking, and there's always lots to do, such as strolling along the boardwalk, shopping on Queen St., or taking in the famous annual Beaches Jazz Festival. The Beaches is home to excellent schools with exceptional Fraser Institute Rankings, and is a trendy, clean, and tight-knit community. Schools in the neighbourhood include Balmy Beach Community School and Kew Beach Junior Public School. Browse listings, houses and townhomes in The Beaches here.
---
Searching for homes for sale in Toronto? Check out Dwelly's listings for Toronto houses, Toronto townhouses, as well as condos for sale in downtown Toronto.