It's not the right time for many things in today's world but, if your situation permits, now is the right time to buy a condo in Toronto.
The COVID-19 pandemic has severely affected many lives and industries across the world - almost a year in, many Torontonians are still suffering from irreparable consequences.
On the macro-level, many industries and economies have either experienced major setbacks, hugely unexpected changes, or, in some cases, growth. Interestingly enough, Toronto's real estate market is an area that has experienced a bit of all three. For example, the rental market has seen slashed prices while the freehold market has seen a rise in demand to buy.
However, this blog post will dive into why now, surprisingly enough, would be the right time to buy a condo. Although the condo market has not necessarily seen a major drop in prices, several factors come into play to make this a desirable time to buy (if you can).
Historically Low Mortgage Rates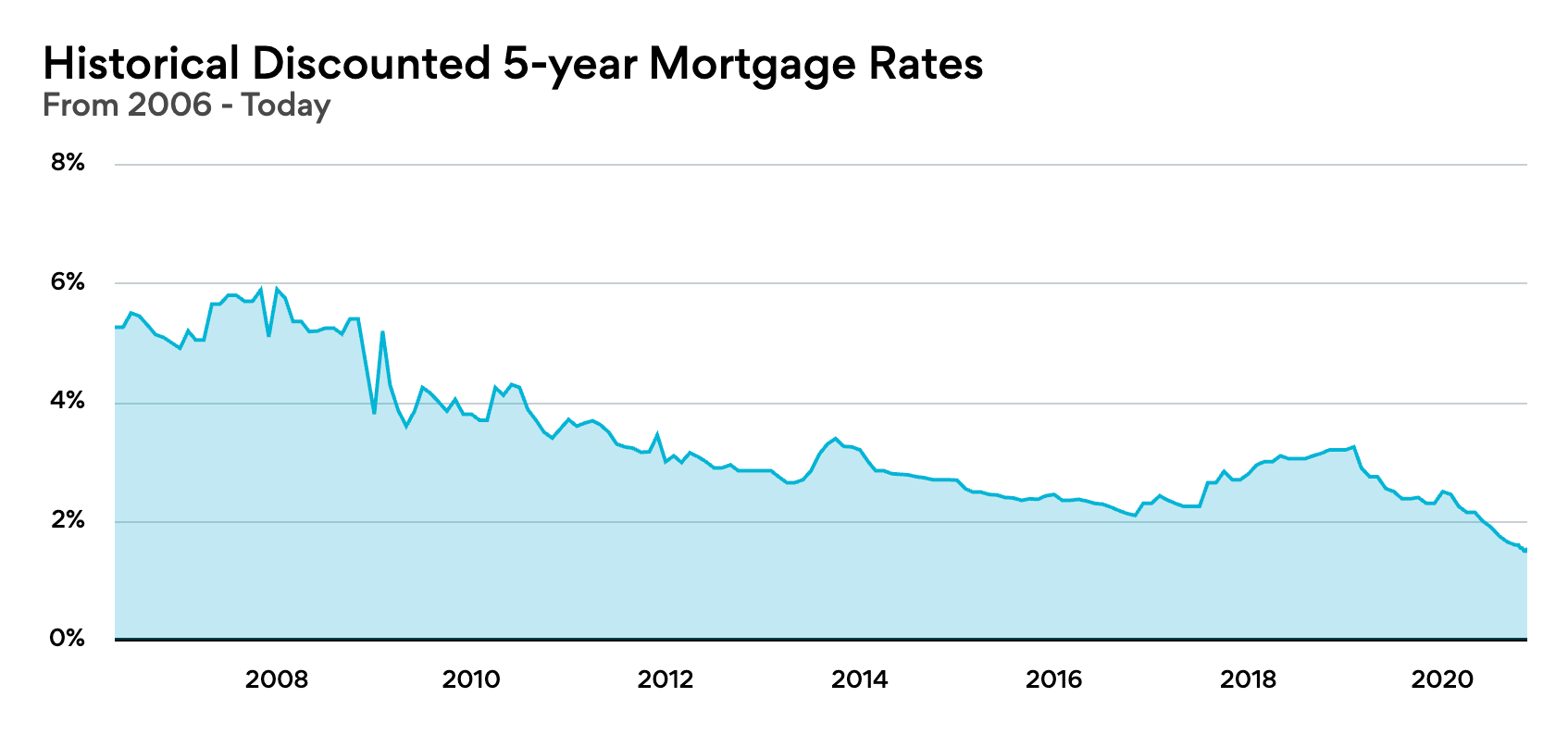 Lots of prospective buyers heavily weigh their decision to purchase a condo solely on how the market is doing in terms of prices, in hopes of getting a gem of a condo at a low price. In being focused on securing a steal, people tend to overlook mortgage rates.  Mortgage rates are a key factor to consider when deciding to buy a condo, or any home for that matter. The mortgage you qualify for will determine the home you are able to buy, and interest rates will determine your long-term monthly mortgage expenses.
At the moment, mortgage rates are at an all-time low. In response to COVID-19 and its effects on the market and structure of the economy, interest rate cuts have become the norm throughout 2020. This means that if you can afford to purchase a home at the moment, now is prime time to lock down a fixed mortgage rate.
Increased Inventory (So Many Options To Choose From!)
The pandemic has pushed a lot of people, Torontonians included, to realize the importance of an outdoor space (like a patio or yard) in their home. Limitations and regulations have resulted in most of us having to spend much more time at home than ever before. As a result, many people have decided to sell their condos and relocate which, understandably, has contributed to a rise in supply of condos.
While some are lucky enough to comfortably decide to sell their current home to move somewhere with an outdoor area or more space, others have no choice. With the pandemic-driven lay-offs and shut-downs, many people can no longer afford their current mortgages and are in a rush to sell in order to downsize. This too, unfortunately, has resulted in an uptick in supply.
If you're in a position to buy, now is one of the few times where this much supply is available on the Toronto condo market. More supply means more options to choose from - you can comfortably see what's out there and make comparisons, rather than rushing to put an offer on that one condo you liked. With lots more to see in many different areas, you can explore all your options and decide what works best for you as a buyer.
Less Competition And More Days On Market
Not only does an increased supply give you more options to choose from - it also means that the market is less competitive, swaying the pendulum more towards a buyer's market. At the moment, buying a detached house is more competitive; we're seeing a rise in Torontonians trading in their tiny city condos for spacious houses in more lowkey neighbourhoods.
With that in mind, the DoM (Days on Market) for condos has gone up, meaning that condos that used to sell in a few days are now sitting on the market for weeks or, in some cases, months. Higher DoM is not desirable and, for many sellers, it might push for flexibility with the price or even a price decrease, which is good news for buyers.
The seller's market days of single digit DoM and non-negotiable prices are long gone (for the time being).
List-to-Sale Price Is Below 100%
Metrics, like DoM, give you insightful information both about a condo and the condo market in general. List-to-sale price is another useful metric to look at because it shows you the ratio of what the condo was listed at vs. what it sold at.
Comparing the list price (what the sellers hoped to sell for) to the sale price (what the sellers ended up selling for) tells us a lot about how the market is doing and where the power lies. Previously, list-to-sale prices used to be higher than 100% which means that sale prices were 100% of or more than the list price. At the moment, condos tend to sell either exactly at list price or even lower which means that sellers are settling for lower than they hoped to sell for. This means that buyers have more power at the bargaining table, going in at or below asking.
When buying a condo with Dwelly, we make sure to give you comparables so that you're able to get an idea of the list-to-sale price ratios and make an informed offer on a condo you're eyeing.
Condo Prices Will Eventually Go Back Up
Historically speaking, the condo market has recovered and bounced back after times of turmoil. While the current situation is not looking uplifting in any sense, it's only a matter of time before things recalibrate once again. While it really is a matter of time, it's truly hard to say just how long it will take for the market to normalize and start rising again.
Since we are currently in a pit, now's a great time to buy a condo as an investment. We're seeing relatively spacious and renovated downtown condos at quite a low price point compared to previous years. With that in mind, buying a condo as an investment is opportune at the moment - when we're at a peak again and things shift back to a seller's market, your purchase will prove to be worthwhile.
If you're buying a condo to rent it out, right now might be harder to find a tenant than previous years (at least not at an upper-level price). However, with a vacancy rate of less than 1% pre-COVID, it's a matter of time before city-life demand rises again.
Looking to invest in buying a condo in Toronto or the Greater Toronto Area (GTA)? Message us via the live chat on Dwelly.ca and start a conversation.
Refined by copyquette.